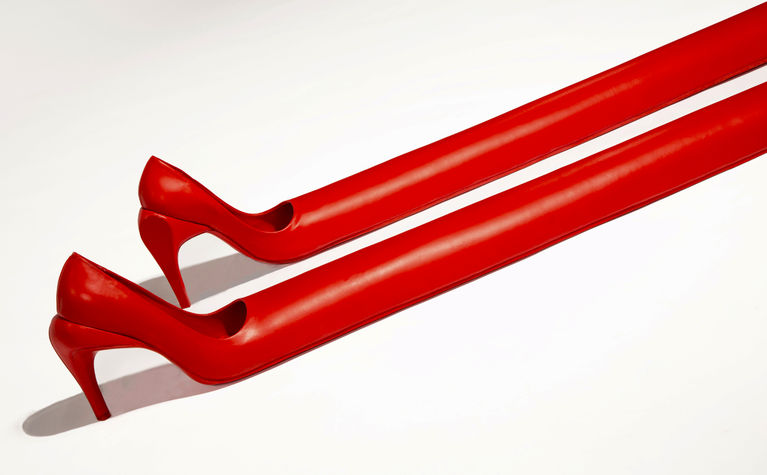 Jo Cope is a conceptual artist working at the intersection between fine art, fashion and craft whose latest exhibition challenges the boundaries of footwear. After giving up her work on commissions with galleries, Cope completed an MA in fashion artefacts at London's College of Fashion—as part of which she produced her new series 'The Language of Feet in the Walk of Life'.
The project was initiated by constructing large extended wooden footwear lasts. Specialist hand-dyed baked and coated leathers were stretched and moulded over the lasts using brute strength and heat machinery to create elongated hollow shoe forms that reimagine classic shoe silhouettes in creative and new ways. Cope describes seeing her assistant with 'sweat dripping off him' during the creative process, highlighting the graft and craft of traditional shoemaking which is also celebrated in the series. Cope's own family history includes cobblers and heel coverers who would work relentless 18 hour days in the quest for creating robust, high-quality footwear.
 It is in the act of walking that I have experienced a mesmerising state, the walk being an unconscious action between brain and body, but if we become conscious and embody the walk, we become the motion
Jo Cope
Further to thinking about the craftsmanship behind the shoemaking process, Cope's series looks at the relationship of the foot and the shoe, the unseen and unimagined connections in non-verbal language. As in fashion, Cope wants to engage with the imaginative form of the shoe and reinvent a practical silhouette in new ways that are also challenging and exciting.





Images property of Nigel Essex