With its focus and passion revolving around creating industry-leading sports performance sneakers, Saucony provides premium running trainers that encapsulate everything the modern runner needs. Whilst striving to provide the best quality running shoes on the planet, styles such as the Saucony Grid SD and the Jazz Original have gone on to become casual favourites thanks to their robust, practical build.
The history of Saucony dates back to 1898 when the company's first factory was established on the banks of Saucony Creek in Pennsylvania. In the late 1960s, Hyde Athletic Industries bought Saucony, and in the 1990s, Hyde officially changed its name to Saucony. The brand stays true to its roots, with its distinctive three-dot logo representing the famous three rocks that sit at the heart of the Saucony Creek.
The new Saucony Originals collection sees the brand return to its '80s and '90s heyday, reviving classic silhouettes including the Jazz and Shadow Original in exciting new materials and colourways for the 21st century. Saucony is constantly refreshing its styles and technology to suit the needs of wearers whilst still remaining extremely style-centric. Regularly worn by celebrities and fashion bloggers alike, the brand has proven time and time again how versatile its styles are.
Shop the latest Saucony collection at AllSole with free UK and EU delivery available.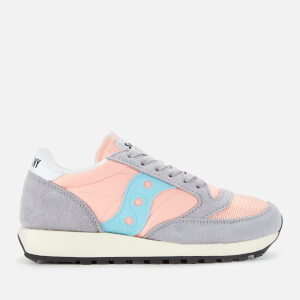 Saucony
Saucony Women's Jazz Original Vintage Trainers - Peach/Grey/Blue