When it comes to shoes, there are two universal truths every man should be aware of: firstly, the first thing that anyone—and women especially—will notice about your outfit is your shoes; secondly, if you are wearing a bad pair of shoes, you are by definition dressed badly. Every outfit you wear should be planned from the bottom up, and your shoes will always be the cornerstone of your look.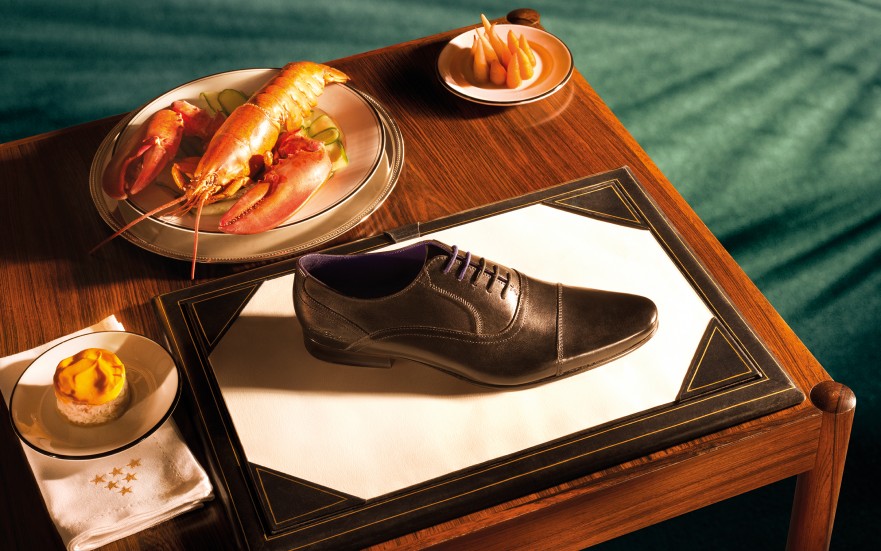 With that in mind, shoes are fundamentally crucial to formal dress.  Whether for work, a black tie event, or a day out at the races, choosing the right pair of dress shoes for your outfit is a game changer. But you don't necessarily have to blow your budget to get a nice pair of shoes; instead you need to know what you're looking for and what type of shoes will best complement your getup. From Oxfords to wingtip brogues, find the shoes that will best accentuate your suit with the AllSole Guide to Men's Dress Shoes.
BLACK OXFORDS: THE FORMAL STAPLE
Every man should build his shoe wardrobe starting with a pair of black leather lace-up Oxfords. Simple, low-key and utterly timeless, black Oxfords are the pinnacle of dress shoes in terms of formality and versatility. A black pair of shoes will complement every colour of suit except for brown, and the lack of superfluous detailing means you can always call on your Oxfords whether you are attending a black tie event, your best friend's wedding or simply impressing your boss at the office.  The 'Rogrr' toe-cap Derby shoes from Ted Baker are a standout example, with subtle details including the damson laces and calligraphic Ted Baker branding ensuring these Oxfords will catch the eye.
MONK STRAP SHOES
One of the biggest shoe stories of last year, monk strap shoes have established themselves once again as a key style for this season. A formal alternative to the classic lace-up, monk shoes are the style you need to finish off your look when wearing tailored trousers ending at the ankle. H Shoes by Hudson's 'Castleton' monk strap shoes (also available in brown) feature a classic double strap construction while perforated brogue detailing to the toe-cap provides additional detailing to a classic look.
DERBIES
A notch down from Oxfords in terms of formality thanks to its open lace structure, the Derby shoe was originally created in the 1850s as a sporting and hunting shoe. Today, however the Derby is regarded as a classic formal shoe and is a popular choice for formal occasions. A timeless silhouette that will never go out of fashion, it is worth investing in a premium pair of Derbies and Grenson's 'Toby' shoes are crafted with a traditional Goodyear welt so you can simply replace your sole every few years and have a shoe as good as new. Paul Smith Shoes' 'Taylors' Derbies are made with black patent leather, giving a more formal look ideal for weddings or other formal events.
BROGUES
A more casual style of shoe suitable for a relaxed work environment or get together, brogues are distinguished by their distinctive perforated detailing which was originally punched in to help water drain away from the shoe. The less perforated detailing on a brogue, the more formal the shoe; so the most formal style of brogue you can purchase would be a quarter brogue and the more relaxed would be a longwing brogue silhouette, such as Dr. Martens '3989' brogues from the Made in England collection. For a more formal wingtip brogue, AllSole recommends Ted Baker's black 'Hann' Derbies. Meanwhile for dress down Fridays in the office or casual gatherings with friends, Grenson's 'Sid' patent brogues add a sharp sparkle while the 'Dylan' wingtips are a crisp tan leather brogue ideal for the weekend.
KEY TIPS
Match your shoes to the cut of your suit: broader shoes with a sleek, slim fit suit will look clunky and ill-matched. Broad shoes will be a better fit for a regular fit suit while sharp, narrower shoes should be your go-to style if you are opting for a slimmer cut.
Marry your shoes and belt: A common style faux-pas that will separate the truly stylish from the amateurs at any wedding, always synchronise your shoe and belt colour for a sharp, co-ordinated look.
Your socks should match your suit colour, NOT your shoe colour: another tripping point for the careless dresser. And ankle or white socks are never okay.
Shop the AllSole collection of dress shoes today, with free UK and international delivery available > >