Weekly Wanderlust is AllSole's summer-long series of interviews with some of our favourite travel bloggers. From unique travelling tales to tips on what to take and where to explore next, Weekly Wanderlust is a hub of discussion designed to intrigue and inspire you onto your next adventure.
Last week we were lucky enough to catch up with Matthew Pike, the man behind popular menswear blog Buckets & Spades, who spoke to us about his recent trip Japan and offered readers some of his savviest travel tips. This week we are chatting to the lovely Sophee Southall, the writer and photographer at the reins of popular travel blog Sophee Smiles. After four years in a series of fast-paced, stressful corporate jobs, Sophee decided to pack it all in at the beginning of 2015 in favour of a year-long overland adventure, driving all the way from Singapore back to her hubby Ben's family home in London in a veteran Land Rover. Since making the year-long trip, Sophee has not stopped adventuring the world and has more recently been exploring northern Scotland.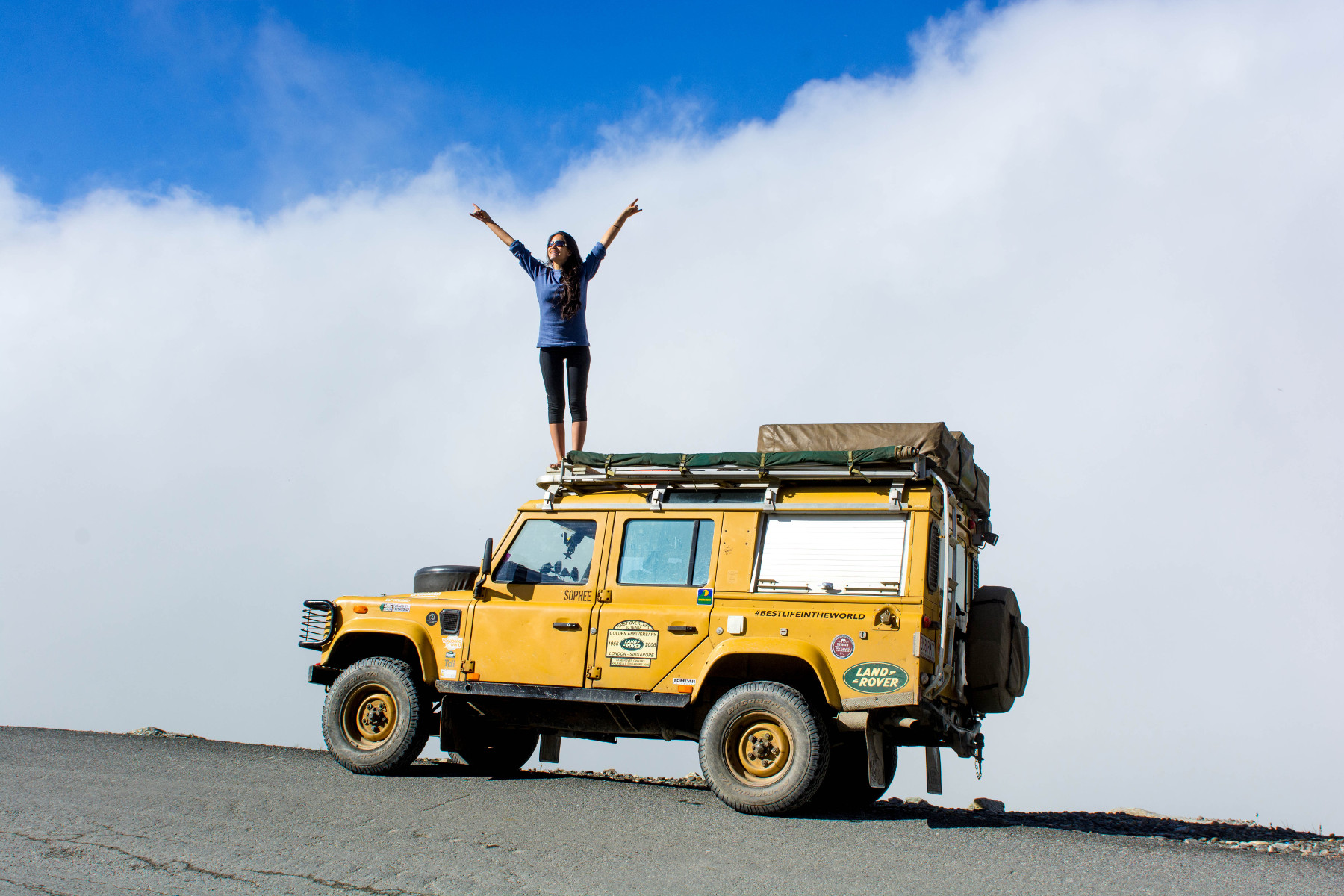 Question:

What has been your most memorable travel destination and why?

Answer:

My road trip along the Leh-Manali Highway (in North India) will forever remain tattooed in my brain. I'm convinced it's the most beautiful place in the world – a playground for the gods. Not only does it house the world's highest road, it also delivers a rolling tapestry of jaw-dropping landscapes, which left me dizzy with delight. I have to return at some point and complete the journey on a Royal Enfield (in-keeping with Indian tradition).

Question:

If you could live anywhere in the world, where would it be and why?

Answer:

Having lived in Brisbane (Australia) for the past 19 years, I've been itching to live overseas for a while. Based on my travels, there's at least a dozen destinations I'd be happy to call home temporarily, including: Mumbai, Hong Kong, Rome, Penang, New York, Yangon, Lyon, Madrid, Edinburgh, a remote island in Fiji or a quaint village in the UK…anywhere outside of Australia would be good. I once read that every destination and every person has a primary personality, which can be described by a single word. When a person's word matches their location's word, they've found home (e.g. New York = ambitious, Venice = romantic). I like that idea. I'd say my word is "passionate" (the fiery, expressive kind), so I should probably be somewhere in South America or Southern Europe, haha!

Question:

What are three key objects you could not do without while travelling?

Answer:

Throughout my travels, I've discovered I don't need a lot. When I'm restricted by weight on a flight or because I'm backpacking, the following items take priority (even over clothes!):

Quality camera and gorilla tripod
Sarong or large scarf (they have so many uses e.g. towel, picnic blanket, conservative headscarf, winter warmer, light beachwear, wrapping for precious items, bed sheet etc.)
Sunscreen, moisturiser and lip balm
Kindle
Earplugs and headphones
Thongs / flip-flops
Phone (for keeping notes, accessing social media, e-research, maps, music and a torch light)

Question:

What is the strangest thing you have seen or encountered while on your travels?

Answer:

It's a destination, not a thing. Turkmenistan was completely bizarre, but not in a bad way necessarily. Like North Korea, it's very closed off from the outside world, so I had no idea what to expect. It turned out to be incredibly state-of-the-art (and somewhat sterile), especially in the capital of Ashgabat. "The White City", as it's also known, is made almost completely from imported marble, and it's illegal to drive a dirty car in the CBD. Civilians have access to free electricity, gas, university courses and beyond–the country is very affluent thanks to its epic reserves of natural gas. All of the students throughout the country wear the same uniform and hairstyles (e.g. for girls, it's a green dress and two plaits). It felt like something out of an eerie sci-fi movie. Turkmenistan is also home to the "Door to Hell", a giant blazing crater in the middle of the desert. It's perhaps the most awesome place I've ever camped. It's hard to beat a bonfire the size of an Olympic pool!

Question:

If you could only listen to one album during your next trip, what would it be?

Answer:

My next getaway will see me visit Uluru for the Australian Outback Marathon. I'll need some hardcore house music to get me through the pain and solitude of this mammoth desert race. By night, while I'm partying under the stars in my flannelette shirt, jeans and Akubra hat, I'll be listening to some classic Aussie country tunes.

Question:

What was the strangest food you have tried while abroad?

Answer:

The fried tarantulas in Cambodia were pretty wild…and a little too hairy for my liking! I struggled with lamb brain in Morocco, the fatty texture and flavour where hard to swallow. The meal, which really put my gag reflexes to the test, was frog porridge in Singapore. I probably shouldn't have watched the cooks prepare the frogs beforehand. It was nasty to watch and just as challenging to eat.

Question:

Are there any foods you can no longer eat at home because you've tasted it in its native country?

Answer:

Pasta. No one does pasta like the Italians. While I was in Tuscany, a resident took me to his favourite restaurant where I was served one of the best meals of my life: a bowl of homemade pasta, tossed in local truffle oil and generously coated in fresh truffle shavings. It was simple, it was sexy and it was SO Italian.  

Question:

What is your perfect book or magazine for travelling?

Answer:

I'm a book person. I try to pick a storyline that's set in the place I'm going to – a book that revels a location's subtle layers and clandestine corners. This ignites my imagination while I'm travelling and makes me see a destination in a whole new light. Think Da Vinci Code.

Question:

How do you feel your travels informed your life?

Answer:

Where to begin?! Most recently, travel made me realise how unbalanced and narrow international news reporting can be. It's generally quite negative, sensationalised and fear-mongering. During my road trip from Singapore to London, I discovered the countries which got a bad rap in the media were home to the friendliest people and some of the most beautiful sites. Pakistan was a complete eye-opener. I was quite nervous about travelling through this part of the world, but it turned out to be the best part of my yearlong road trip. From that point on, I knew I had to be more open-minded and seek truth through first-hand experiences.

Question:

You can only take one pair of shoes in your hand luggage; what are the one pair of shoes you cannot do without while travelling?

Answer:

Thongs. They're lightweight, easy to pack and leave my feeling fabulous. Plus, they come in handy in hostel bathrooms. If I'm travelling to colder locations, I always take my Uggs. They're cuddly and lush.

Question:

What has been the funniest word/expression/language you have encountered during your travels?

Answer:

To be honest, I think it's hard to beat Australian English. Whenever I'm overseas, people comment on how strange our phrases are, such as, "How ya goin', mate?" and "You're a flaming galah!". Google Australian idioms and slang words, and you'll understand what I mean.

Question:

What is the perfect bag for travelling?

Answer:

For longer trips, I use the Black Wolf Ridgerunner 80+20L Bag/Backpack. It's three bags in one (a suitcase with wheels, a duffle bag and a backpack) and it can be transformed to suit most travel situations. I also find it really durable, and I love the "expanding gusset" which allows me to bring extra souvenirs home. The suitcase style opening and multiple compartments make it easy for me to organise and access my belongings with ease (I'm a messy and impatient person, so this is a big bonus!). For shorter trips, I always opt for a lightweight backpack – nothing more. I love the freedom of being able to carry "my home" with me without too much of a struggle. I'm not brand loyal when it comes to backpacks; whatever supports my back and keeps my stuff safe does the trick.

Our thanks to Sophee for taking part in Weekly Wanderlust. You can read about Sophee's journey from Singapore to London on her blog, Sophee Smiles.
You can also follow Sophee on Twitter, Facebook and Instagram.
Shop the AllSole Summer Shop today for all your holiday essential footwear.