From gyms kits to smart suits we wear trainers 24/7, they have become a main-stay in every wardrobe especially as we head into spring-summer. As you start to hunt for your next investment pair we wanted to run through the trends we are seeing this season, to make it easier to you to get ahead of the curve. So without further ado, here's a quick rundown of the biggie trainer trends from the experts… 
#1 Suedes Combo
The first trend is all about the fabric that we call suede. Adding a softer texture to trainers we are seeing our favourite brand's releases versions with wonderful suede combinations. In blush tones and bright colour schemes, they add a little luxury and style to your more basic styles. A personal recommendation to keep your eye out for is that new range of suede Veja's. 
#2 Fresh Whites
Circulating back around every year, fresh white trainers are something everyone should invest in to see them through summer. From tennis-inspired styles to chunkier soles, they are the perfect trainer to wear rain or shine. Whether you prefer a leather trainer or canvas, find the latest from Polo Ralph Lauren and Converse, which you can live in for the foreseeable.
#3 Colour & Print
Replicating the trends within fashion, trickling down from the runway we are seeing a plethora of bright and bold colours. With everyone is mix'n matching, wanting to express their style and personality this summer brands are showcasing their imaginative freedom. With favourite's amongst the Vans and Converse collection pick something fun and vibrant to match your mood this spring. 
#4 Basket Ball Style 
Basket-ball style footwear is definitely the IN thing. With Nike Duncs and New Balance 550s selling out in every store it has highlighted the worldwide demand. The ones at allsole we are patiently waiting to get our hands on are the Coach court-inspired hightops and the Tommy Hilfiger and Converse collection.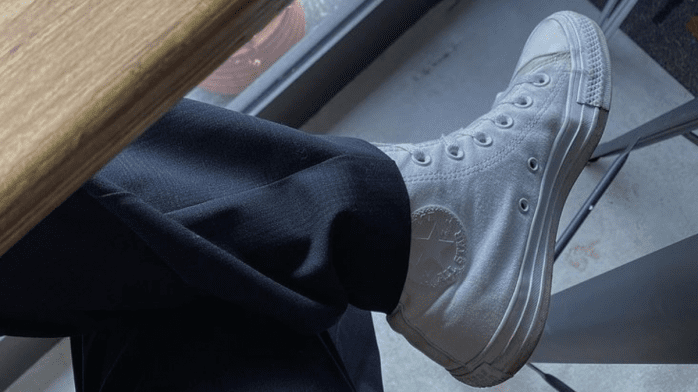 Looking for your next pair of converse, here's our complete Buyer's Guide from the experts to help you with the styles, fit and care...
Featured Image Credit – @@vincentdesailly @veja