From Coco Chanel to Alexa Chung, espadrilles have been the fashion crowd's summer must-have since forever.  Nonchalant and super versatile, whether you prefer your espadrilles flat or heeled, they're sure to top off any hot weather outfit with a perfect touch of Mediterranean influence. And no one makes them quite like Castañer the go-to brand for the quality and delicate detailing. Worn by fashion heroes like Yves Saint Laurent and Anna Wintour, we're obsessed. Giving you all the information you need to help you click to buy, here's our  Castañer buyer's guide covering sizing, care and styling.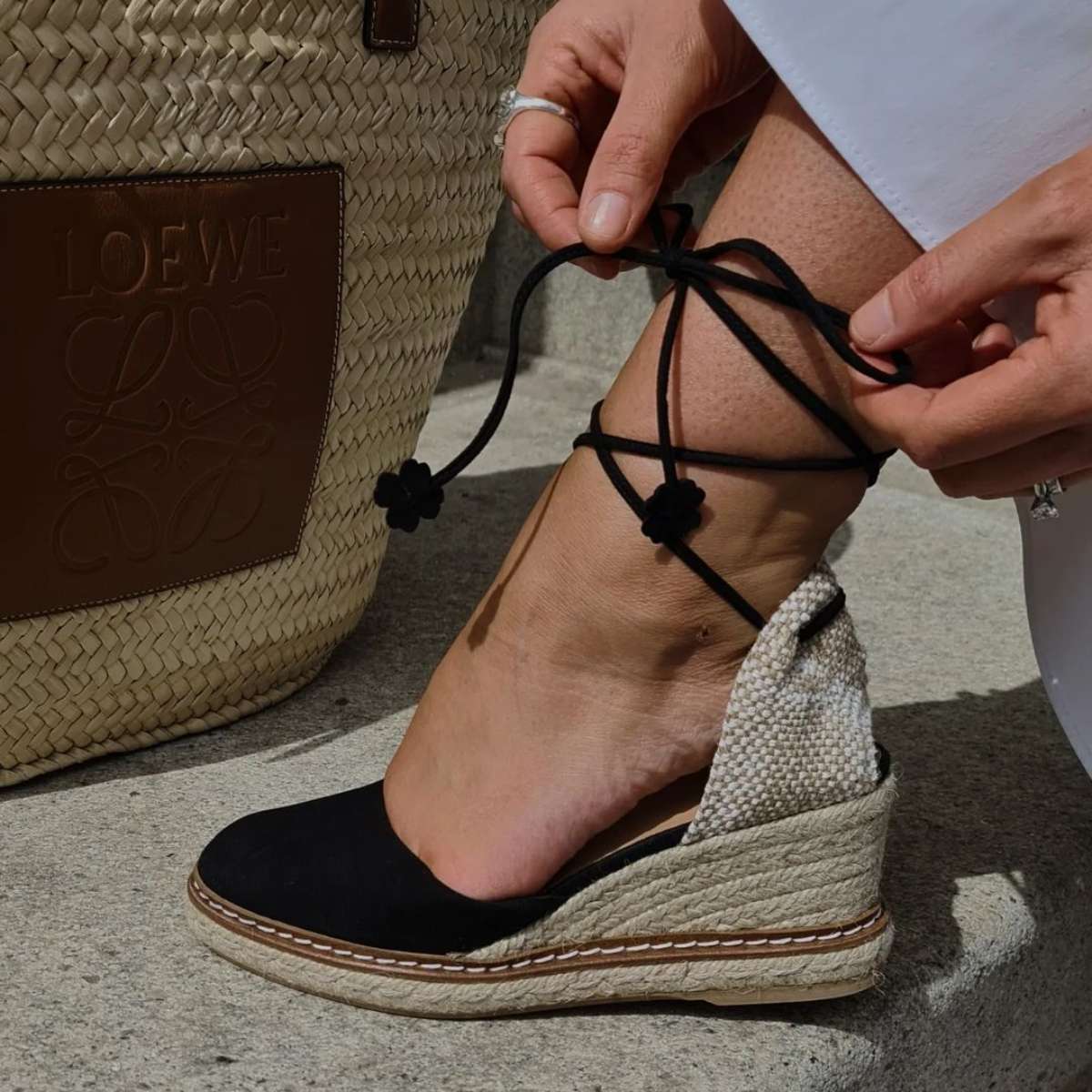 #1 What does Castañer mean?
Castañer is the surname of the family behind the brand, launching their shoe business way back in 1927.
#2 What is the origin of Castaner?
Inspired by their long family history of espadrille makers, Luis Castañer and his cousin Tomàs Serra opened their first workshop in 1927. Originally, the shoes were worn by Spanish servicemen, but by the 60s and 70s the style has picked up an international interest for their design.  
After undergoing a generational shift, Lorenzo Castañer, and his wife Isabel took the brand in a more fashion-focussed direction by adding colour into the designs. They very quickly caught the attention of fashion forerunners such as Yves Saint Laurent, who had been looking for the perfect pair of espadrilles for months and subsequently commissioned them to make him a pair. Soon Castañer had taken the fashion world by storm, becoming the official espadrille maker for labels including Chanel, Tom Ford and Hèrmes among others, a position they still hold today.  
#3 Where are Castaner shoes made?
Castañer shoes remain true to their Spanish heritage, still being made using the same technique and dedication to Spanish craftsmanship. Their shoes are still handmade in Spain, keeping their traditions alive and well. 
#4 What are
Castaner
 espadrilles made of?
For their exterior, Castañer espadrilles are made of cotton canvas, making them soft and breathable for comfortable all-day wear. Their heel is made of hand-braided cotton fabric for a hardwearing texture that maintains their signature style.  
Unlike original espadrilles where the sole would be made fully of weaved and braided rope, Castañer espadrilles have a sole made of vulcanised rubber. Vulcanised rubber is a rubber that has been processed to make it more durable while keeping it nice and springy for comfortable walking. It means that your Castañer espadrilles will last while still being soft under the foot, making them perfect for days wandering around a city or long nights. Keeping them looking authentic, the sole is surrounded by the traditional braided rope for that signature espadrilles look. 
Castañer espadrilles also have the added bonus of a toe cap as the braided rope curves up at the front, protecting the front of your shoe from any scuffs or rips to the cotton.