As the 131st edition of Wimbledon unfolds on the grass courts of the All England Club this week, AllSole takes a look at a brand which arguably has the competition to thank for its very inception. Despite its worldwide reputation as the quintessential French tennis brand, Lacoste's creator has a trip to England that took place almost 100 years ago to thank for his love of the sport. Following that trip, a skinny 15-year-old René Lacoste would begin playing tennis in his native Basque Country against the wishes of his father who worried about the Frenchman's fragile health. Just one year later, René was ranked nationally, and two years after that at the age of 18 he would return to England to take part in his first ever professional competition at Wimbledon. This time he would be knocked out in the first round by recent Australian Open winner Pat O'Hara Wood, but the occasion marked the beginning of a lifelong love of the game for Lacoste, who would go on to become a legend in the sport for his outstanding sporting talent, distinct aggressive style of play, as well as for revolutionising sportswear.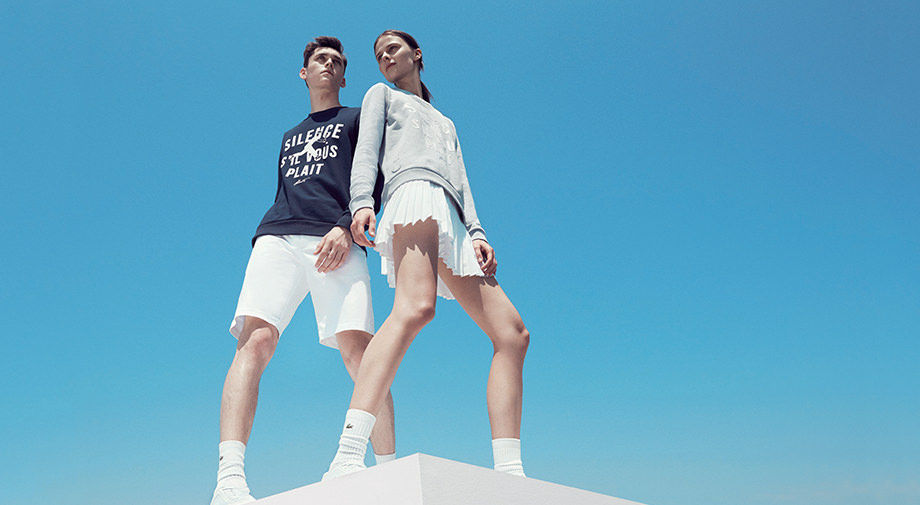 Lacoste retired from tennis in 1929 aged just 25, but despite only playing professionally for seven years he left behind an illustrious legacy in the sport glittering with silverware. Ranked the world's number one tennis player at his career zenith in 1926 and 1927, Lacoste won Grand Slams in singles and doubles, taking the Wimbledon and the US Open crowns twice each in singles as well as his native French Open three times. The third of Lacoste's victories at Roland Garros famously came in his very last match as a professional tennis player. In the final of the competition, Lacoste faced compatriot and rival Jean Borotra, another of the famous Quatre Mousquetaires who dominated world tennis throughout the 1920s. Typical of René Lacoste's tenacious, never-say-die approach to the game that won him his nickname of the "crocodile", the two Frenchmen played out a five-set thriller edged by Lacoste in the final set. That game would go down in Roland Garros folklore as one of the great tennis matches in the competition's history, although few would have thought Lacoste would go on to be remembered for anything other than his prowess in the sport.
After early retirement, Lacoste teamed up with André Gillier—the owner of France's most successful knitwear manufacturer—to work on a new, exclusive range of sportswear. Lacoste had already been experimenting with tennis clothing in his playing days, but four years after retiring from the game, Lacoste released his famous polo shirt to the masses—changing the face of tennis courtwear forever. Woven from a loose-knit piqué cotton designed as a more breathable, fluid alternative to traditional stiff tennis wear, René Lacoste's polo shirt fused modern comfort and practicality with the traditional elegance inherent to tennis to produce the go-to fashion piece for tennis players around the world. The Lacoste polo shirt was distinguished by its embroidered green crocodile, a nod to its founder's famous nickname. The popularity of the polo saw its founder's name become a respected global sportswear brand that quickly transcended stylistic boundaries to be worn both in sporting and casual contexts. The Lacoste brand would go on to evolve sports fashion as a whole, including innovations in clothing, footwear, accessories and equipment. This was all in line with the creative genius of René Lacoste who, in addition to being the first Frenchman to win the US Open and the Davis Cup, would also become the inventor of a tennis ball-throwing machine, the lightweight, tubular steel tennis racket and the first tennis player to use a small piece of rubber in his stringbed to reduce vibrations on impact with the tennis ball.
A creative obsessive whose influence infiltrates most aspects of modern tennis as well as sportswear more broadly, René Lacoste's longstanding legacy will be on show once more at this year's edition of Wimbledon when the famous green croc will be emblazoned on the uniform of players including Alizé Cornet, Jeremy Chardy and Pierre-Hugues Herbert. 94 years after René Lacoste walked out onto the grass courts of Wimbledon for his first competitive tennis competition, these tennis players will carry the mantle for Lacoste in creating the newest chapter in the proud history of the Lacoste.
Shop the Lacoste footwear collection on AllSole for the latest innovations in tennis shoes and trainers > >