Iconic Massachusetts brand Saucony boasts a rich heritage stretching back to roots in 19th century Pennsylvania on the banks of the Saucony Creek.  Having already carved itself out as a leader in sports footwear, the brand reached its golden age in the '80s and '90s with the creation of many of its iconic sneaker silhouettes. After a short lull, the brand has undergone a speedy resurgence in recent years which has propelled Saucony once more to be recognised as an innovative trend setter in the footwear industry.
Central to Saucony's renaissance is the brand's fidelity to its shoe range. While new in essence, the Saucony Originals collection rides a wave of '80s and '90s nostalgia with re-launches of many of the brand's most-famous and most-loved models in exciting new materials and colourways.  All signed off with Saucony's instantly recognisable three-dot logo, each silhouette in the series marks an important historical moment for the brand, from the early Jazz Original right through to the Grid 9000 of the mid '90s. Although the differences between each shoe might appear slight to the casual observer, they are nuanced and intricate for the seasoned sneakerhead, symbolising a distinct era and style. Choose your Saucony style carefully to make your statement and Instagram or tweet us your look.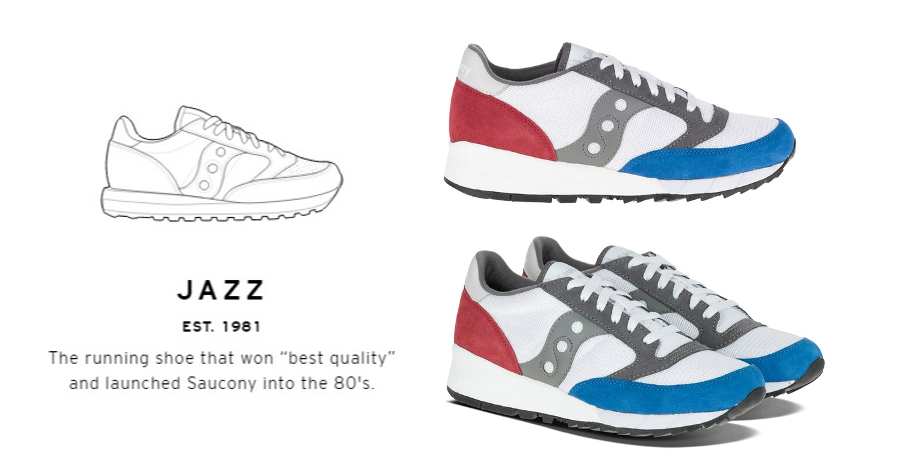 Jazz (Est. 1981)
The creation of the Jazz trainer saw Saucony return directly to its ambition of producing the finest running footwear in the world. The brand worked with leading podiatrist Frank Santopietro to offer a design that focuses on reducing weight and achieving greater balance; this was achieved with several now signature Saucony details, including the Maxitrac triangular lug outsole, 'Butterfly Balance' design, and a Saucony sock insert for a more ergonomic fit. Featuring a classic running low-top silhouette, the Jazz was declared the "best quality" running trainer of the 1980s and it is a testament to that quality that it remains Saucony's most coveted model until this day.