One of the most iconic figures in fashion, everyone knows Karl Lagerfeld. His signature dark sunglasses and white ponytail have gone down in history, remembered as a ferocious figure in the industry with an unrivalled career across some of the biggest fashion houses around. Holding a major role at three different brands and making his name globally known, Lagerfeld was a powerhouse of a designer but who is Karl really? Answering all your burning questions on everything from Karl Lagerfeld shoes through to his cat's name, here's everything you need to know about Karl. 
#1 Who is Karl Lagerfeld?
Born in Hamberg, Germany in 1933, Karl Otto Lagerfeld was a designer, creative director, photographer and artist who lived the majority of his life in Paris. Drawing from a young age, Karl moved to Paris to study art and history, where he quickly caught the eye of designers like Yves Saint Laurent and Pierre Balmain. Working his way through some of the biggest names in the industry, he held various positions including assistant, designer and photographer at brands including Balmain, Chloe, Valentino and more.  
#2 Where did Karl Lagerfeld work?
As well as working at a whole host of fashion houses, Karl held major positions at Fendi, Chanel and his eponymous label. In 1967 he was hired by Fendi to modernise the brand and stayed in this role until he passed away. Similarly, he was brought into Chanel in the 1980s to revive the brand that was considered to be dying, under his creative direction the fashion house rose to glory again. At the time of his death, Karl Lagerfeld was a director of Fendi, Chanel and his own label, Karl Lagerfeld which he started in 1984.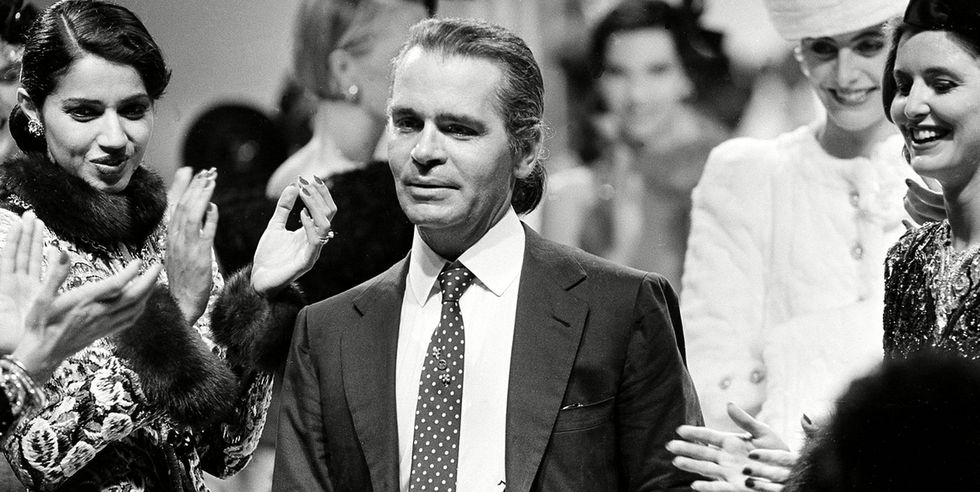 Image via CRFashionbook
#3 When did Karl Lagerfeld pass away
?
The designer sadly passed away on 19th February 2019 after complications from Pancreatic cancer. He requested to not have a formal funeral, but instead, a major celebration of his life and career was held in Paris and attended by over 2500 people and highlighted his work as Chanel, Chloe, Fendi and more. 
#4 Are
Karl
Lagerfeld
 shoes true to size?
Generally, Karl Lagerfeld trainers, shoes and sandals are all considered to fit true to size, recommending you get your usual size. If in doubt, use the charts below to find your perfect fit. 
Women
US

 

UK

 

3

 

1

 

3.5

 

1.5

 

4

 

2

 

4.5

 

2.5

 

5

 

3

 

5.5

 

3.5

 

6

 

4

 

6.5

 

4.5

 

7

 

5

 

7.5

 

5.5

 

8

 

6

 

8.5

 

6.5

 

9

 

7

 

9.5

 

7.5

 

10

 

8

 

10.5

 

8.5

 

11

 

9

 

11.5

 

9.5

 
Men
UK

 

US

 

6

 

7

 

7

 

8

 

8

 

9

 

9

 

10

 

10

 

11

 

11

 

12

 

12

 

13