Unveiled as the brand's first-ever global women's brand ambassador last season, Rosie Huntington-Whiteley has quickly established herself as the new face of UGG. After years spent modelling for luxury designers including Givenchy, Balmain and Moschino, Rosie has been speaking about the importance of UGG to her life away from the catwalk and the film cameras. Perfect for creating that off-duty look so readily associated with UGG, Rosie has become the brand's muse for the reinvention of its iconic Classic boot. The Classic II is an exclusive new launch for Autumn/Winter 2016 and one of Rosie's first projects with the brand. To celebrate the launch of the Classic II and the AW16 collection, Rosie spoke about her excitement at working with UGG, how best to style your UGGs, and what to expect from the new winter collection.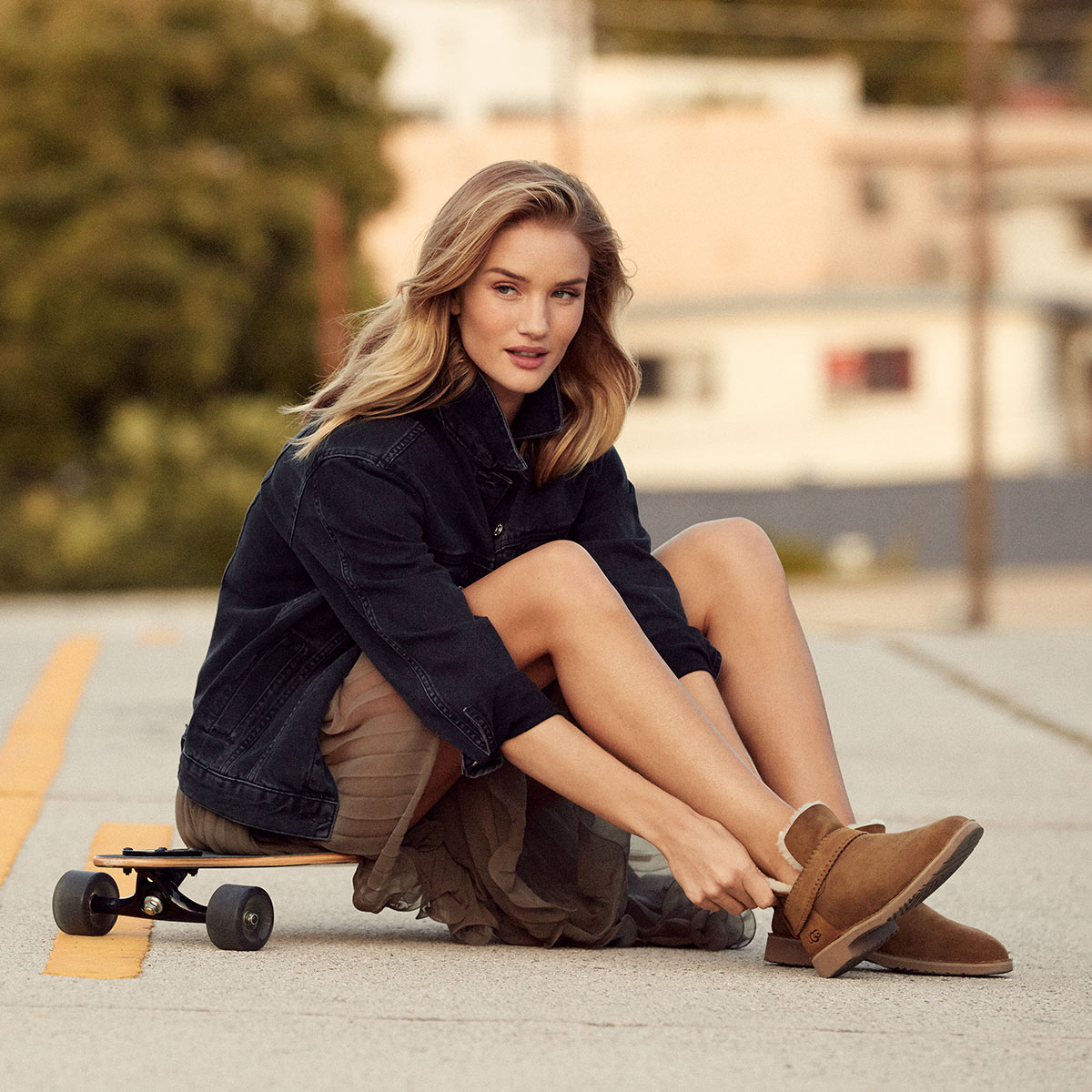 Question:

The first woman Global Ambassador – that is a lofty title, are you excited?

Answer:

I have been an UGG® fan for many years now, so I'm very happy to be working with a brand I believe in. It's always meaningful to me to align with brands that I love and are an honest reflection of me; its makes the partnership truly authentic.   Whether I'm back in the English Countryside, on a road trip with friends or close to the ocean in Malibu, I feel at home in my UGG® products.

Question:

Tell us about your first experience with the UGG® brand?

Answer:

I remember saving up to buy a pair of UGG® boots with one of my first ever pay checks when I started modelling – they were everywhere at the time and I had to get my hands on what everyone was talking about. I remember the excitement of opening the box and putting them on for the first time and it is true what they say – once you try them on, you are hooked.

Question:

What is new for UGG® this winter?

Answer:

We have so many things in the pipeline for the brand. The first campaign that I'm going to be working on is the launch of Classic II – it's everything you love in the iconic boot, only better. The Classic silhouette has been completely reimagined; they're so much lighter and even have a protective coating to make them water-resistant – definitely combining the best of both worlds.

Question:

When you aren't on the runway or in front of the big screen, what do you wear?

Answer:

I always like to feel put together even on my days off, but that doesn't mean I want to sacrifice comfort. As you know, my job can consist of wearing sky high heels on the runway and on film, so when it's 'my time' I like to be a little more comfortable. I love to wear any of the new Classic Slim boots as I love the sleek, slim line silhouette. Their look book from last season shows how the boots can be styled for any occasion so the options are endless. 

Question:

How do you relax off-screen and away from the runway?

Answer:

I'm always my most relaxed spending time in nature, whether it's on the beach with my dogs, hanging by the pool with friends or taking a walk in the countryside with my family.

Question:

What is your favourite way to style the Classic boots?

Answer:

My Classics aren't just for wearing around the house. To style the boots in a fashionable way I like to pair them with my favourite pair of Paige denim jeans, a silk blouse and a blazer.

Question:

How many UGG® products do you currently have?

Answer:

10 pairs and counting!