Today we are paying homage to a true talent, Keith Haring, as his work finds itself at the centre of another huge collaboration. His graffiti style graphics were a pioneer in modern art and are still so relevant within fashion, art and culture today. 
His work continues to encourage self-expression and creativity while representing oppressed communities. The buzz around him and his work has never gone away and that is arguably why so many brands continue to want to collaborate. 
Art is for everyone.
This man does not need much of an introduction so let's get straight into it – here's everything you need to know on the great Keith Haring. 
#1 Who is Keith Haring? 
Keith Haring was a New York based artist who rose to fame through the '80s when the graffiti subculture was breaking onto the scene. In his own words, he always described a love for drawing but didn't make the correlation that cartooning was a form of art. After encouragement, he attended university to study commercial art but dropped out as he said everyone who studied graphic design seemed miserable. You can't help but love his very literal analysis. 
#2 What type of art did he produce? 
Haring initially became recognised for the white chalk drawings he created throughout New York's subway system. Between 1980 and 1985 his work became widely recognised amongst commuters as the subway became Haring's "laboratory" for refining his style. 
His art style was part of the contemporary movement; he combined art with fashion and worked closely with his famous circle of friends such as Madonna and Grace Kelly. Although his artworks were always colourful and animated, Haring tackled some hard-hitting subjects. One of his most famous examples is the Crack is Wack referring to the drug epidemic in New York City, which was a huge feature on a wall for everyone to see. 
#3 When did the Keith Haring Foundation get set up? 
Haring was diagnosed with AIDS in 1988 and in 1989 set up the Keith Haring Foundation. The foundation's mission is to protect his art and legacy while supporting not-for-profit organisations that assist children, as well as organisations involved in education, prevention, and care related to AIDS. Haring sadly died of AIDS-related complications at the age of 31 on February 16, 1990. 
#4 Most Famous Keith Haring Collaborations? 
Let's kick it off with the one everyone is talking about…
Keith Haring x Converse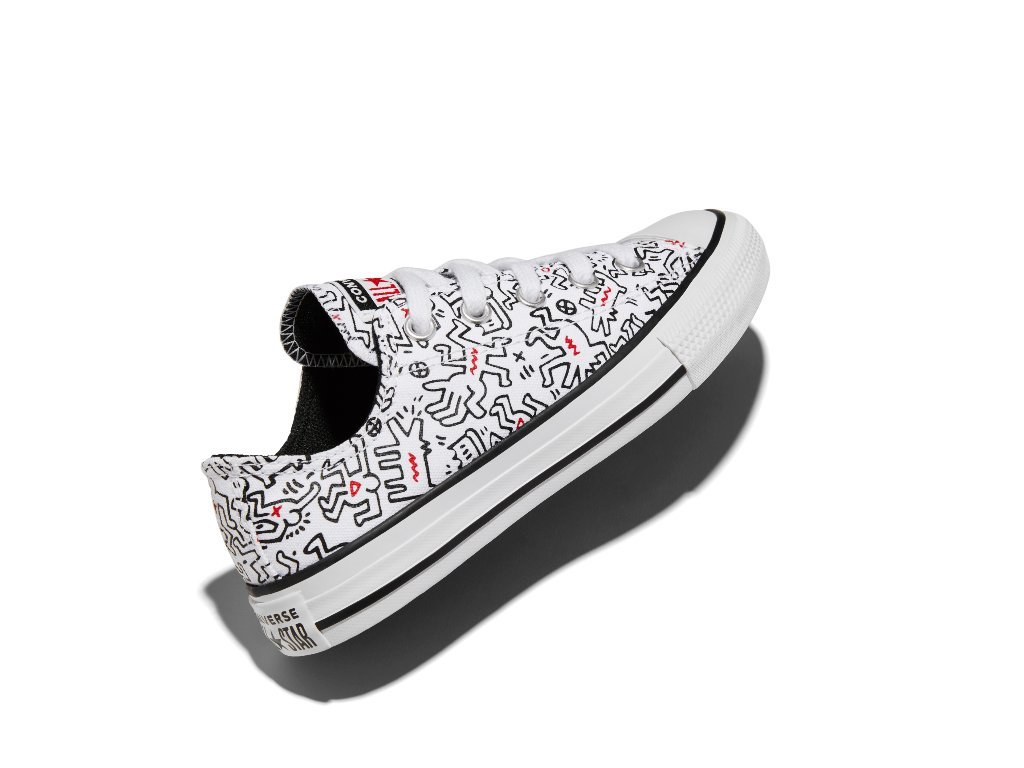 Merging progress and iconism Converse and the Keith Haring Studio have come together to celebrate the power of creativity. Inspired by the infamous subway drawings Keith Haring's inclusive art gets a new backdrop– the Chuck 70. With Haring's instantly recognizable aesthetic his work appears dominantly on the four collaborative pairs. The black and white graphics liven up the original converse depicting his pop art figures with hits of red.