Today recognised as one of the United Kingdom's most iconic footwear brands, Dr Martens established its reputation creating robust, practical boots with comfort and durability in mind.
Embraced by the working classes upon their UK release in 1960, Dr Martens were later picked up by punks rebelling against consumerist culture in the late '60s and '70s. Ever since Dr. Martens has become synonymous with rebellion, counterculture and adding a little attitude to your style.
Globally beloved as some of the most reliable and durable shoes you'll ever purchase, Dr Martens are an investment piece you'll love forever and can style will just about anything.
To ensure you pick the perfect pair here is our guide to Dr Martens, with advice on sizing, breaking them in and all your burning questions about the brand…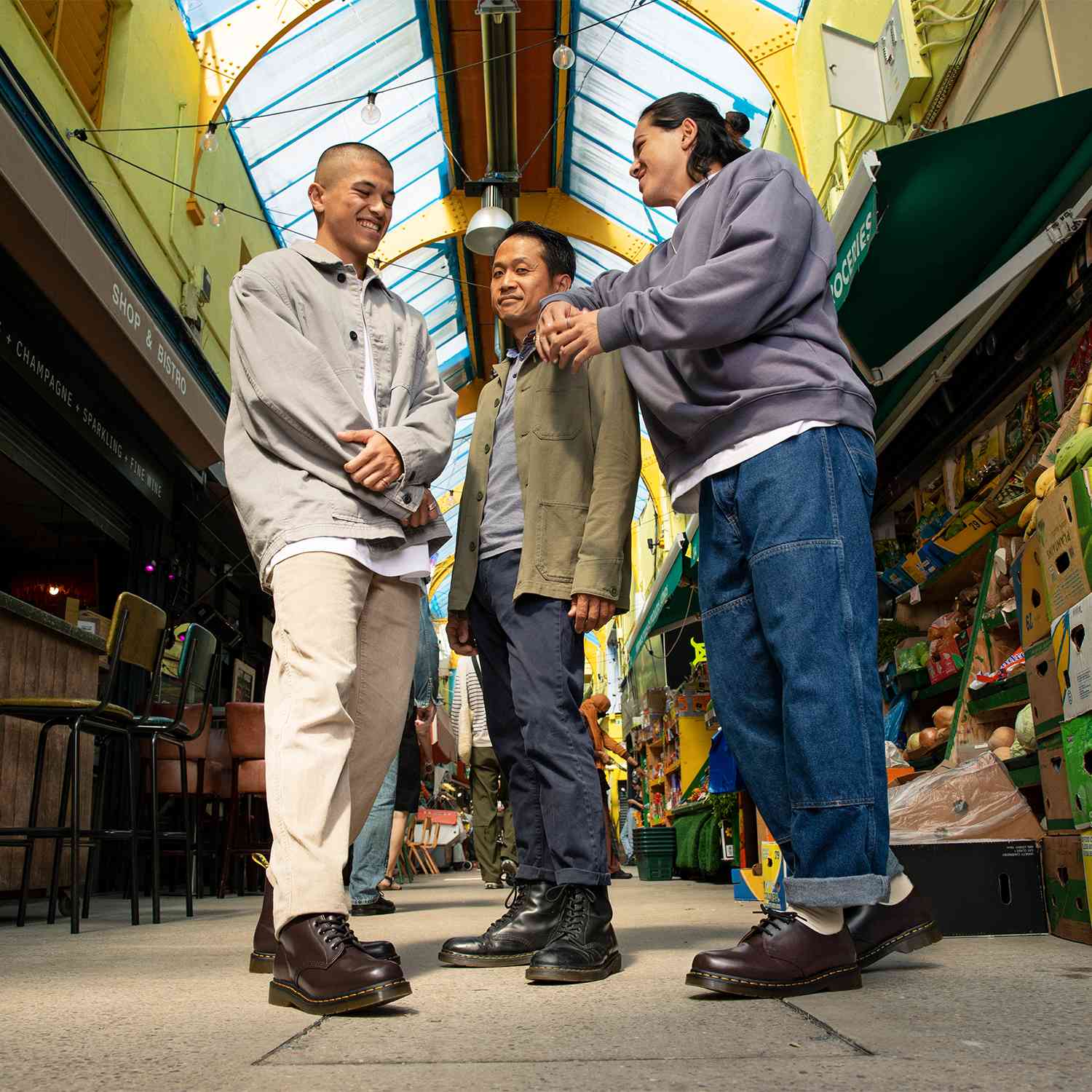 #1 How do I break in Dr Martens?
First of all, you need to ease yourself in – start by walking around on soft indoor surfaces and getting used to feel. Do this every other day for best results.
Soften the boots with the Dr Martens' Wonder Balsam. The blend of coconut oil, lanolin and beeswax will hydrate and ease the leather and soften gently.
Remove the inner sole if you're finding that you're feeling pressure on the top of your foot when walking, or if they feel too tight.
If they feel slightly loose, add in a Dr Martens insole to add cushioning and ensure your foot is secure and not slipping about.
For the first couple of wears, put on multiple layers of socks or an extra thick pair. This will not only protect your foot against blisters but will encourage the leather to soften and shape to your foot.
Persevere! Dr Martens mould to your foot so the effort is worth it. Once broken in, they'll be the comfiest pair on your shoe-rack so take it slow but keep going. Getting them fully broken in and comfy can take a couple of weeks but you'll get there.
#2 Do Dr Martens shoes run big, small or true-to-size?
Generally, Dr Martens fit true to size, so we'd advise getting the size you usually are. However, Dr Martens can differ in size dependant on the style you are buying. The classic boots can sometimes fit a little big so if you're in between sizes, consider going down a size or getting an insole. Also, when moving up sizes, be aware that this will mostly affect the length rather than the width.
To be sure on your size, take a look at the size chart below.
US WOMEN

 

US MEN

 

UK

 

EUR

 

INCHES

 

5

 

 

3

 

36

 

9.21″

 

6

 

 

4

 

37

 

9.54″

 

7

 

6

 

5

 

38

 

9.88″

 

8

 

7

 

6

 

39

 

10.21″

 

9

 

8

 

7

 

41

 

10.55″

 

10

 

9

 

8

 

42

 

10.88″

 

11

 

10

 

9

 

43

 

11.22″