Hunter is a progressive British heritage brand renowned for its iconic Original Hunter wellington boot. The brand was founded in 1856 and up to the current date, holds two Royal warrants of Appointment to HM The Queen and HRH The Duke of Edinburgh. Hunter offers a technical and practical collection that utilises its rich history of innovation to develop designs and range offering.
AllSole has compiled a Buyer's Guide, answering all of your questions from what size to get, to how to style Hunter wellies…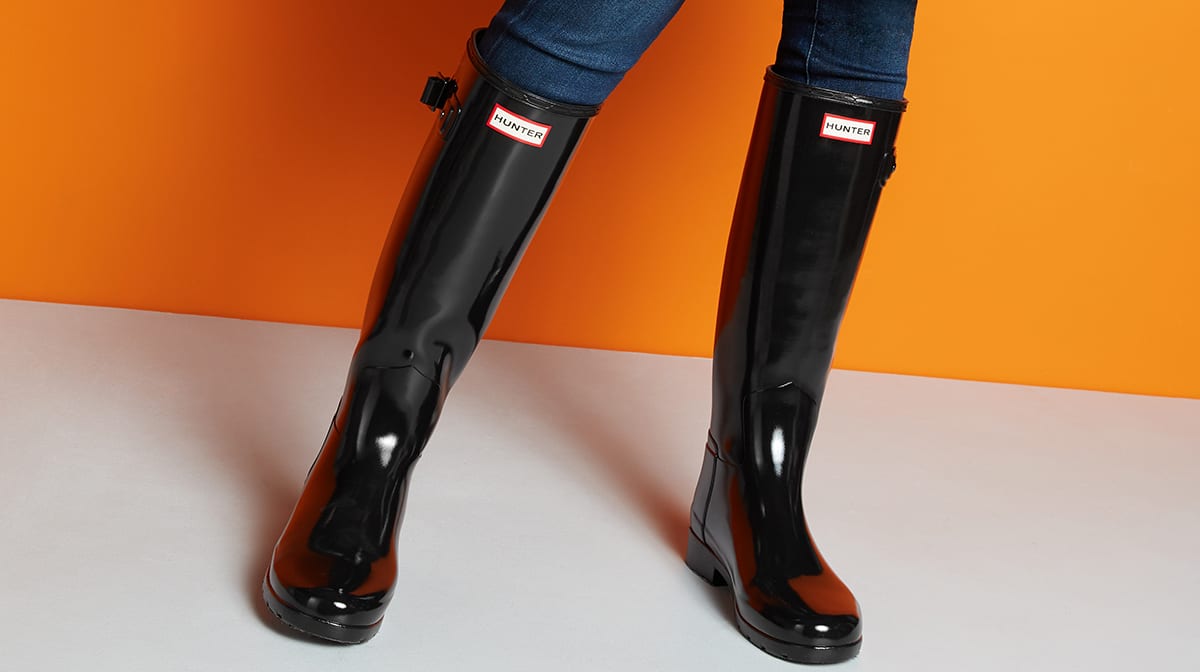 Size chart
| | | | | | | |
| --- | --- | --- | --- | --- | --- | --- |
| UK | EU | US | JP | Insole | Max Calf Area | Leg Height |
| 3 | 36 | 5 | 22 | 23.2 | 36.5 | 37.5 |
| 4 | 37 | 6 | 23 | 24.3 | 36.3 | 37.5 |
| 5 | 38 | 7 | 24 | 25.2 | 37.8 | 37.5 |
| 6 | 39 | 8 | 25 | 25.5 | 38.6 | 40.5 |
| 7 | 40/41 | 9 | 26 | 26.8 | 39.4 | 40.5 |
| 8 | 42 | 10 | 27 | 27.5 | 40.2 | 40.5 |
| 9 | 43 | 11 | 28 | 28.5 | 41.0 | 40.5 |
#1 Do Hunter wellies come up big or run small?
Hunter wellies are true to size and by no means come up small. It has been said that they come up big if anything. However, their fittings, on the whole, tend to be more accurate than not.
#2 What size Hunter boots should I get if I am in between sizes?
If you usually wear a half size it is recommended that you wear a half size down to get an ideal fit. However, if you're looking to wear them with a thick sock or insole, buying a half size up to the bigger size might be most beneficial.
#3 How do Hunter boots fit?
Hunter wellies have been best known to fit comfortably. The same applies for whole number sizes that if you're wanting to wear a thick sock or insole then it is recommended that you opt for a larger size to accommodate this extra insulation for your foot.
#4 Best Hunter wellies for wide calves?
There are many questions surrounding whether Hunter wellies are appropriate for people with wider calves. The answer is yes! If you're not wanting the wellies to be snug, then opt for the short wellies that have a wider circumference where the calf sits within the boot or for the wellies that offer an adjustable strap around the back.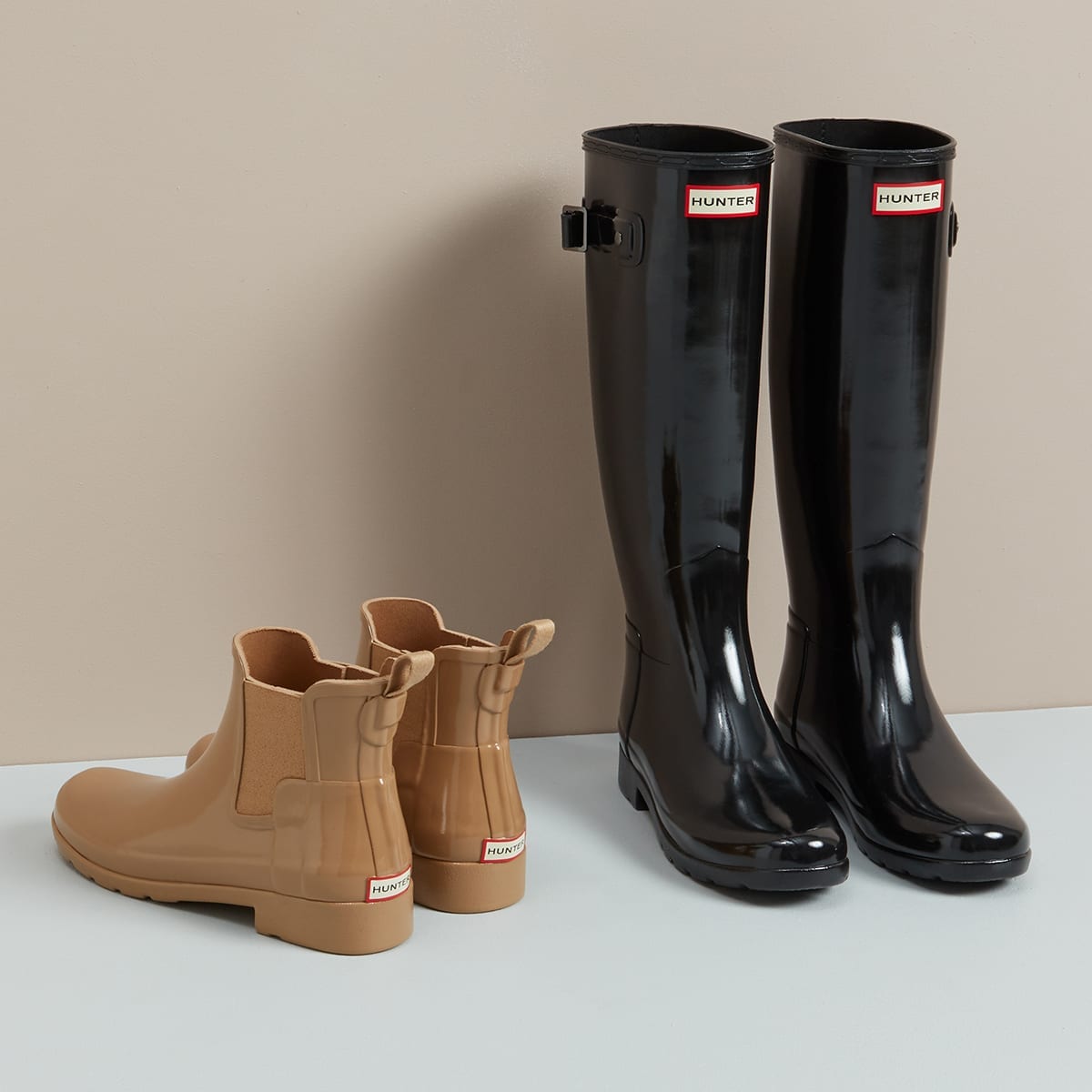 Hunter Care Guide
#5 How to look after Hunter wellies
To ensure that your Hunter's last you a lifetime, be sure to wipe them clean after use and let them dry naturally. To avoid any discolouration, leave to dry out of direct sunlight or near artificial sources of heat.
If there are stubborn marks, stains or dirt, once the boots are dry, clean again with hot soapy water.
Avoid using abrasive tools to remove dirt, a tough sponge should do the trick. Do not store boots whilst wet as this can cause odours and creases when left folded, and don't use solvents on your boots.
For the best Hunter boots care, use Hunter's own rubber boot buffer and cleaning wipes.
#6 What is the white powder on my Hunters? How to get rid of white appearance on my Hunters?
Due to the natural rubber properties that Hunter wellies are made from, in certain conditions, insoluble particles can begin to rise to the surface of the boot. This is what is called "blooming". This isn't unusual of Hunter wellies. It is a signal of high-quality rubber and nothing to worry about in terms of durability or performance.
To remove signs of "blooming" and restore a pristine finish, regularly use the Hunter Boots Buffer!
#7 How to make Hunter wellies more comfortable?
When first wearing your hunters, the rubber might be slightly stiff. But although over time, the rubber will become moulded and suited to your walking style, there are things you can do to ensure your boots are comfy from day one.
Try thick Hunter boot socks available for men, women and kids for all sizes and shapes of boots. They're a great option for cold winter walks and for anyone wanting to soften their step!
Hunter Style Guide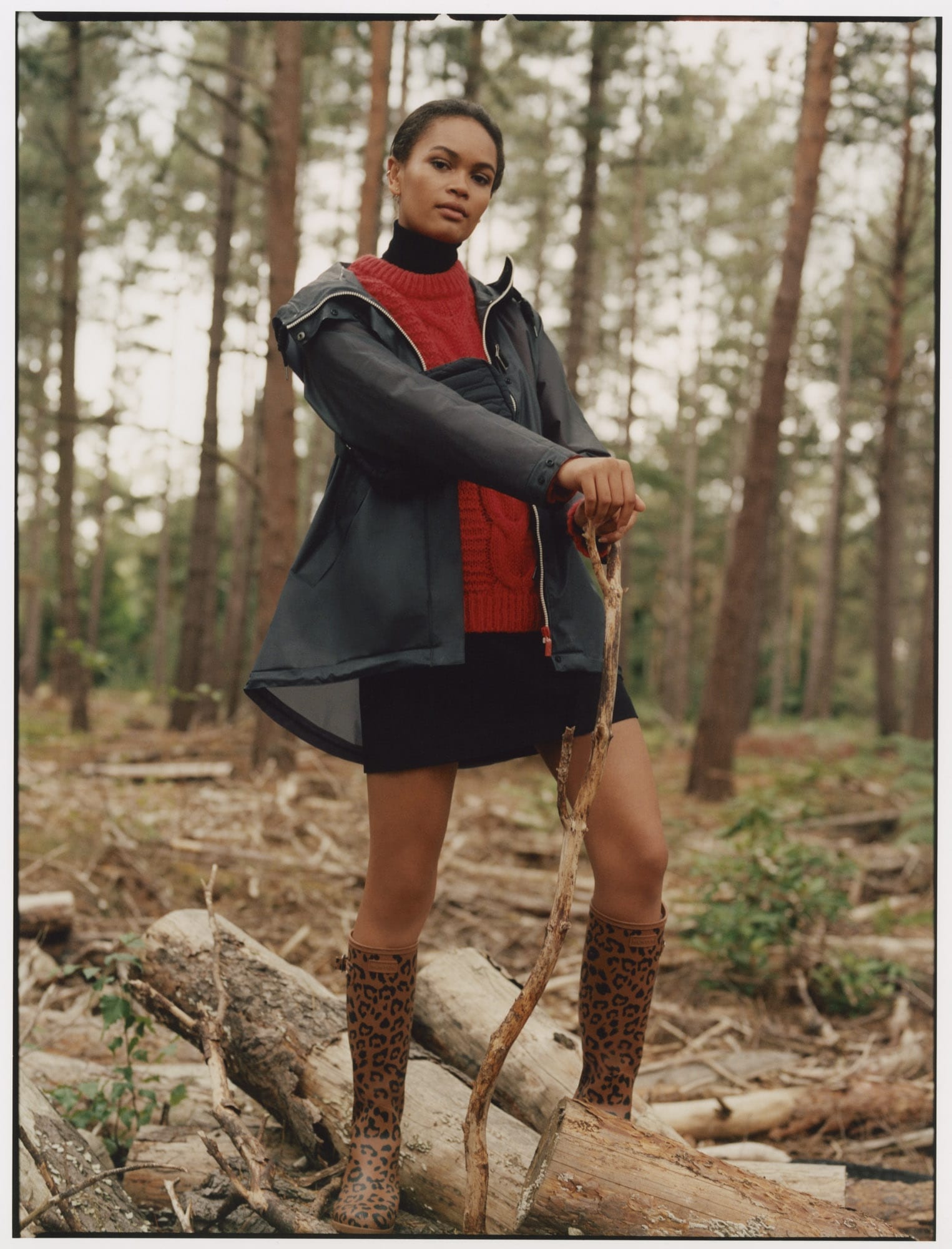 #8 How to wear Hunter wellies
Hunter wellies are an extremely diverse purchase. They can be worn for anything from winter walks to camping trips in the summer, for kids to play out in on a trip down to the farm. Festivals seem to be a popular pick too during the summer season as well as muddy field festivals that occur during the colder climates.
Wear with anything from jeans to leggings, a skirt to a t-shirt dress… you can team Hunters with any outfit.
#9 Tall or Short Hunter wellies?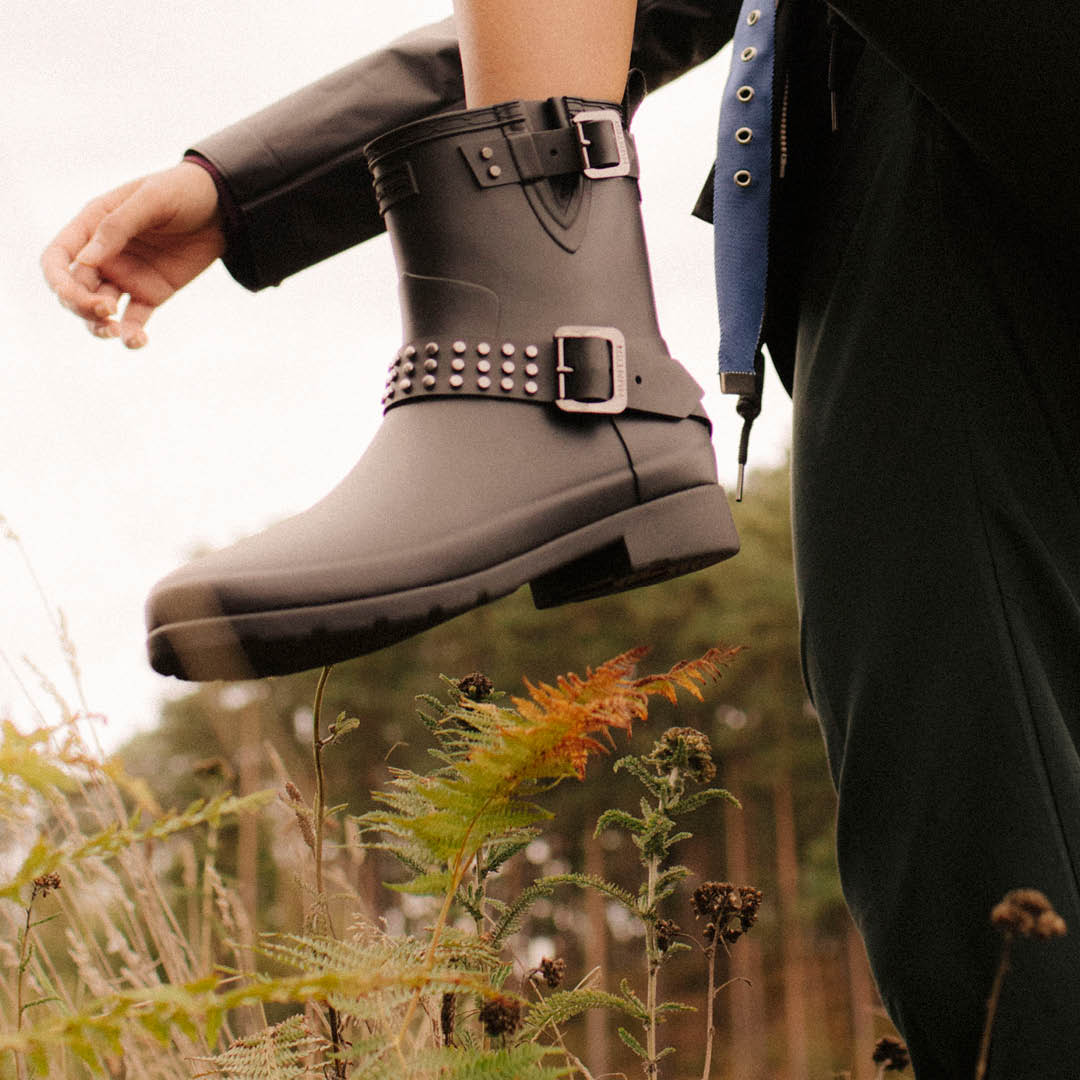 This is a choice purely to be made down to preference. There are benefits to both but ultimately you need to decide what you will mostly be wearing them for, and so which will be most appropriate.
Here are the styles: