Heralded as the UK's finest arts and culture festival, Glastonbury this year marks its 47th edition with headliners including Radiohead, Ed Sheeran & Foo Fighters. Worthy Farm's pop-up city has long been celebrated for its eclectic mix of acts, and over the years the festival's organisers have continuously jolted festival-goers with varied and often dividing selections that capture the state of the music industry at each point. From the backlash against The Smiths' headlining performance in 1984 for being too mainstream to American rap stars taking to the stage in the 21st century and declaring themselves this century's biggest rock stars, Glastonbury marks a key date in the musical calendar and helps us shape our vision of the contemporary music industry.
Without further ado, AllSole takes a look at 10 moments in the history of the festival that have seen Glastonbury become a part of music folklore.
T-Rex, 1970
Initially conceived as a means for young farmer Michael Eavis to pay off his overdraft, the first ever Glastonbury festival charged just a quid for entry and included unlimited free milk from local farms. After the Kinks were forced to pull out, T-Rex allegedly rocked up to the festival in a velvet-covered car and went on to blow the minds of its audience, with Eaves telling a BBC reporter at the time "I wouldn't say it was a disaster, but it hasn't been as good as I hoped". Little did he think he has set in motion what would become the world's most famous music festival.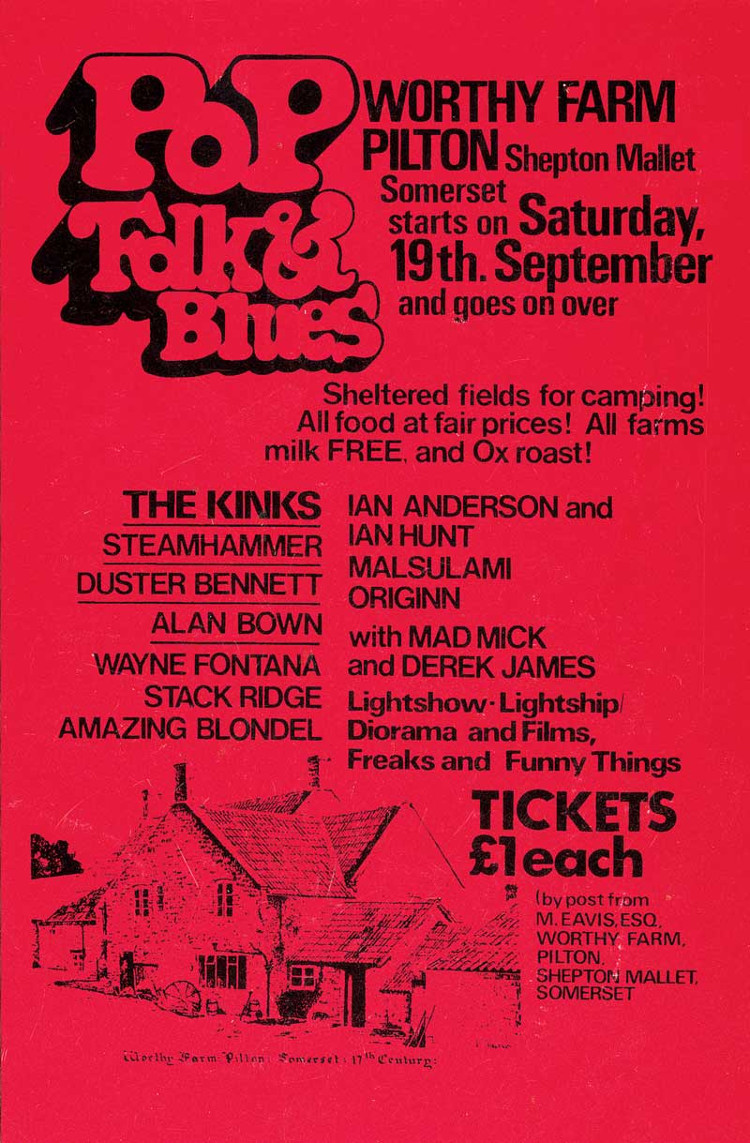 The Smiths, 1984
In its early days, Glastonbury festival wasn't quite the career-defining moment it is today for bands. The festival started out as rather mellow, low-key event largely associated with hippiedom. The moment this all changed was in 1984 with a performance from Manchester rockers the Smiths.
The announcement of the Smiths' headlining set was initially met with significant backlash, with die-hard Glasto-goers complaining the festival had no space for such mainstream acts as Moz & co. Despite the first ten minutes of the set being screwed up by sound problems, by the end of their performance the band had welcomed an invasion of revellers dancing to Hand in Glove.
As guitarist Johnny Marr remembers, "Our songs were so fast that we got through our first four in about the time it took for the other bands to finish their intro. Eventually, I did manage to instigate a stage invasion, which raised a few eyebrows. One fan was trying to climb on stage, I helped pull him up, and then a few more people followed, and all of a sudden we'd managed to turn it into a Smiths gig".
Pulp, 1995
After the Stone Roses famously pulled out of their headline slot, supersubs Pulp filled in to give one of the great Glastonbury performances. The band fittingly debuted "Sorted for E's and Wizz"—a song partly inspired by the Roses' seminal gig at Spike Island in 1990—during the set and of course finished their set with "Common People" to a jubilant Glastonbury crowd.
Radiohead, 1997
With the coda of Britpop and especially Oasis looming heavily over British rock music, Radiohead ushered in a radically different church of rock in 1995 with The Bends and again in 1997 with the release of OK, Computer. Two weeks after the release of the latter, the band headlined Glasto in a performance that organiser Michael Eavis would go on to describe as "the most inspiring festival gig in 30 years".
David Bowie, 2000
Almost thirty years after performing at the second ever edition of the festival, David Bowie took to the Pyramid stage in 2000 for what Michael Eavis today deems "the best Glastonbury moment of all time". Despite suffering from laryngitis the week prior to the gig, Bowie delivered an iconic performance that is today considered one of his finest.
Jay Z, 2008
The news that Jay-Z was to headline Glastonbury in 2008 notoriously ruffled the feathers of several rock musicians, perhaps none more so than Mr Noel Gallagher. Declaring the festival as being built on "a tradition of guitar music", Gallagher famously declared "I'm sorry, but Jay-Z? No chance".
The American rapper's riposte was to introduce his set with an improvised version of "Wonderwall" with Jay-Z somewhat continuing the festival's guitar tradition before breaking out into a violently energetic performance of "99 Problems".
Blur, 2009
Topping the bill on the final night of Glastonbury 2009, a re-united Blur offered the Pyramid stage the perfect send-off with a stirring, career-spanning set that saw the ever-serious Albarn let loose with frenetic, youthful energy and emotion for once more night. The performance clearly made a strong impression, with BBC 6 Music listeners later voting the performance to be the best Glastonbury performance in the festival's 40 year existence.
Stevie Wonder, 2010
Who better to mark the festival's 40th birthday than multi-instrumentalist showman Stevie Wonder? In addition to a crowd-pleasing set featuring all his best-known songs including "Superstition", "I Just Called to Say I Loved You" and "Signed, Sealed, Delivered", Stevie also invited Michael Eavis to the stage for a closing Happy Birthday plus a wondrously weird version of his debut single, "Fingertips", sung with sky-high levels of vocal distortion to try to recreate the voice of the 13-year-old Stevie.
Dolly Parton, 2014
Looking through this list, it is notable that every performance—excluding this one—was delivered by a headlining act on the Pyramid stage. When Dolly Parton took to that stage at just gone 4pm on a Sunday afternoon, very little was anticipated than a reminiscent set of golden country songs from one of the genre's most iconic figures. Instead Dolly gave the definition of a crowd-pleasing set, wooing her audience with equal doses of golden country ballads, Midwestern charm and stage banter that left some journalists declaring her to be the 'biggest attraction since the Rolling Stones'.
Adele, 2016
Despite huge international success and her insuperable rise into a global superstar, Adele had steered clear of the festival circuit for several years until Glastonbury came calling in 2016. Critics inevitably raised their eyebrows and described Adele's musical style as too 'boring' or 'tame' to conquer a Glastonbury crowd, but Adele proved her doubters to be glaringly wrong with a set defined by its incredible vocal performance, warmth and Adele's infectious personality.
Editor's Festival Footwear Picks