Is there another product that holds such an influence over its fans like the sneaker? It is one that has borne its own dedicated army of fans, indeed its own culture, and even 40 years after sneaker culture was first born it still continues to climb towards its peak.
The passion and commitment of sneakerheads have even spawned a secondary resale market worth an estimated $1.5 billion per year—and that is in the US alone. Every Saturday morning in the UK, the States and now online, queues of trainer aficionados snake the streets outside retailers seeking to cop the weekend's hottest drops. For some it is simply a passion, an opportunity to add limited edition silhouettes to their growing personal collections; For others, Saturday morning means business and is their gateway into a resale market that has been carefully shaped by key sneaker brands including Nike, adidas & Vans over the course of the last 40 years.
Limited edition sneakers and branded collaborations are the cornerstones of the resale market and arguably one of the key reasons why sneaker culture has become the mammoth it is today. Since at least the 1970s, footwear brands have embraced collaborations with the fashion and creative industry's biggest and on-trend names—a tradition that remains a key strand of the sneaker industry until this day. Not many brands can boast a heritage of sneaker collaborations like Vans so we're taking a look at the biggest Vans sneaker collaborations throughout the past 40 years and how much it might cost you to cop a pair on the resale market today.
#10. Vans x Murakami Slip-On LX – Gold Skull (2015): £230 / $300
In 2015, Vans teamed up with prolific Japanese contemporary artist Takashi Murakami for the winter season of Vault by Vans. The collection brought Murakami's vibrant painting and sculptures to the uppers of his favourite Vans silhouette, the classic Slip-On, brought to life with his signature smiling flower and skull motifs. According to StockX, the Vans x Murakami Gold Skull edition would now set you back a minimum of £230 or $300 dollars on today's resale market.
#9. Vans x Anti Social Social Club Sk8-Hi (2017): £270 / $350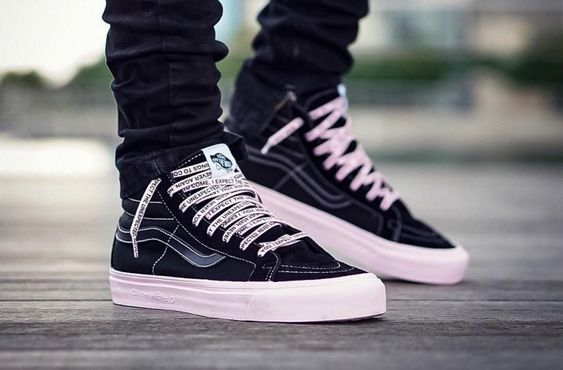 For SS17, Neek Lurk's Anti Social Social Club collaborated with the original action sports footwear and apparel brand on an exclusive reimagining of the iconic Sk8-Hi and Authentic silhouettes. Dousing them over with the brand's signature millennial pink and "Get Weird branding", both limited edition silhouettes are highly sought after on the resale market.