VEJA sneakers are synonymous with clean, classic, contemporary style and now more than ever are being seen on the feet of fashion's most influential. The French footwear brand has truly affirmed their position in the sneaker market with their ecological and fair trade conditions for production. Whether you're a first time buyer or a VEJA fanatic, we've teamed up with the experts at Allsole for everything you need to know about the brand, from composition to care we've got you covered.
Beginnings
In 2003, Sebastien Kopp and Francois- Ghislain Morillion were confronted by the unfortunate reality of globalisation whilst conducting an audit of a fast fashion factory in China. From 5 level bunk beds to a hole in the ground for showering, it struck a chord with the pair and inspired them to make a change – from here VEJA was born.
VEJA Size Chart
Women
| | | | | | | |
| --- | --- | --- | --- | --- | --- | --- |
| US | 5 | 6 | 7 | 8 | 9 | 10 |
| UK | 3 | 4 | 5 | 6 | 7 | 8 |
| EUR | 36 | 37 | 38 | 39 | 40 | 41 |
Men
| | | | | | | | |
| --- | --- | --- | --- | --- | --- | --- | --- |
| US | 7 | 8 | 9 | 10 | 11 | 12 | 13 |
| UK | 6 | 7 | 8 | 9 | 10 | 11 | 12 |
| EUR | 40 | 41 | 42 | 43 | 44 | 45 | 46 |
Are VEJA sneakers true to size?
Generally VEJA sneakers are true to size, so we would recommend going for your typical size, however each style may fit your foot differently. As with most leather footwear it may take a few wears to mould to the unique shape of your foot. If you are in between two sizes, we suggest choosing the smaller size.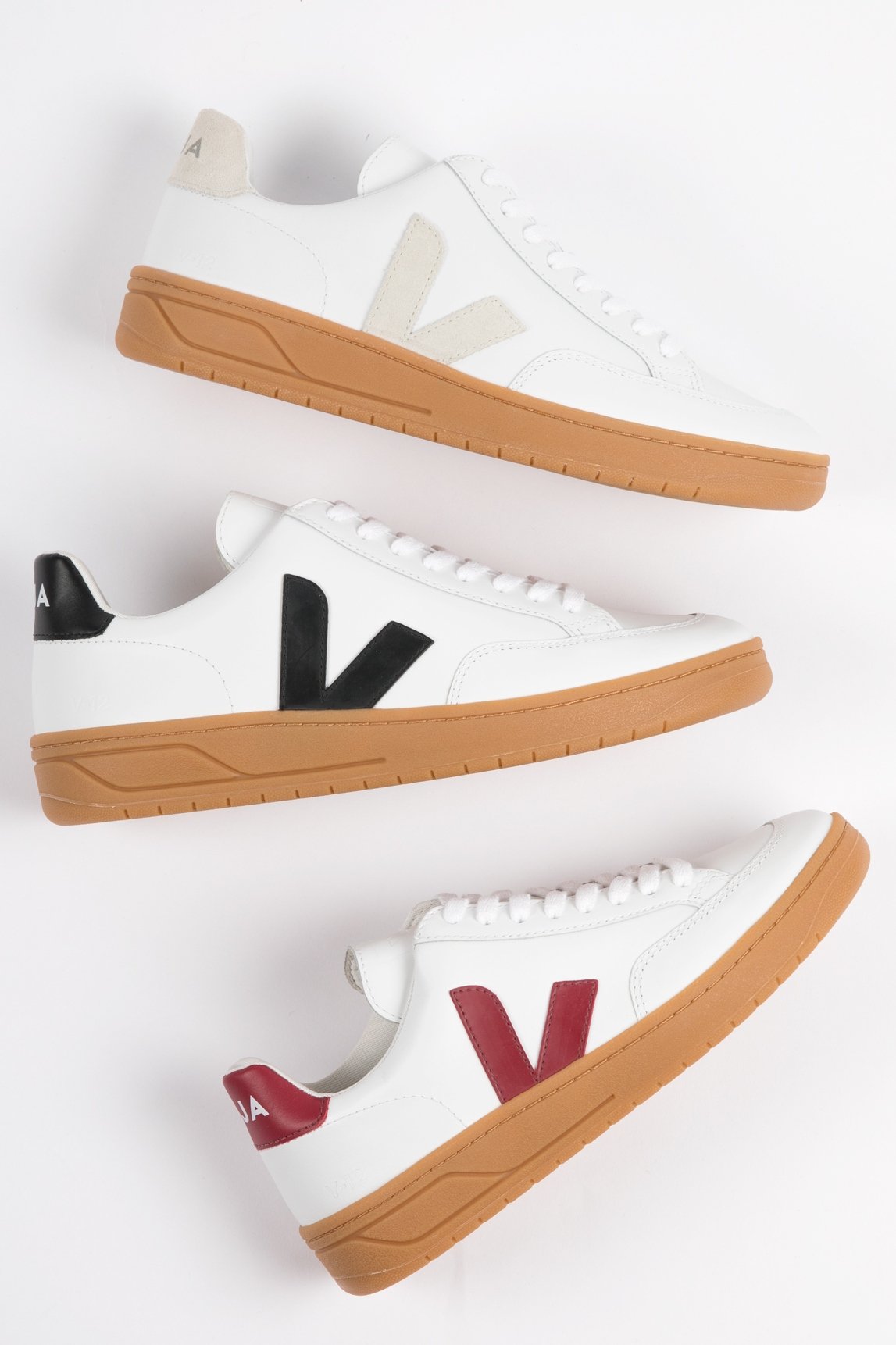 Are VEJA sneakers leather?
VEJA produce both leather and non-leather sneakers, with one VEJA style out of four being 100% vegan. Unlike other retailers, VEJA are working on two major methods of production to improve the quality and composition of their sneakers. VEJA are dedicated to ensuring their leather does not come from the Amazon nor from an area that was deforested for cattle farming.
When producing leather sneakers, animal skins are treated chemically in a process called tanning to ensure that they don't deteriorate over time. Unfortunately, the process of tanning puts a huge strain on the environment, with excessive amounts of wastewater produced for every ton of tanned leather created. Not only is this, but through tanning, pollutants such as chromium, lead, mercury and various other pathogens are released consequently polluting the environment.
VEJA, is determined to make as little impact on the environment as possible, and this is why they use chrome ( inoffensive tanning when not oxidised) and vegetable tanning methods. Vegetable tanning is used on 10% of VEJA models, which uses only natural tannin and has no negative impact on the environment.
Since 2013, VEJA has also been using fish leather in their designs. The leather is taken from freshwater fish farms where unused fish that would otherwise be thrown away are utilised by the brand.
Are VEJA vegan?
VEJA has a variety of vegan sneakers, including the Nova White, Nova Canvas, Wata, SDU Rec, Flannel, B-Mesh and Rio Branco. Of the 81 styles designed last year, 20 are completely vegan.
Another fundamental pillar that VEJA is built on is fair trade. The brand work directly with farmers in Peru and Brazil to agree contracts and prices for their organic cotton before a single seed has been planted. Alternative materials such as tilapia and experiments with chrome-free suede, leathers and wild rubber are also in the pipe line to develop the sustainability of the brand.
How to clean your VEJA sneakers
To keep your pair of VEJAs in tip top condition, we suggest giving them a spray with a waterproof solution before you wear them. For canvas VEJAs, simply brush off any scuffs or marks with a brush and some soap – don't put them in the washing machine as this can cause the leather inserts to rub off.
For leather styles, maintain the quality with leather care creams and sprays and use a suede brush to keep suede looking brand new.
Where are VEJA sneakers made?
Ever since day one, VEJA sneakers have been manufactured in the state of Rio Grande do Sul in southern Brazil. 40% of employees live at the factory while the other 60% live in nearby cities. Find out more about the production process HERE.
Do Veja advertise?
No. VEJA put all money saved from advertising and marketing costs straight into the production, raw materials and the workforce who create their sneakers.
Which Veja sneakers should I buy?
 V-12 B Mesh
Veja V-12's are made out of ecological and sustainable materials. The upper in B-Mesh is made from 3 plastic bottles, with the lining 33% organic cotton and 67% recycled polyester. The panels and logo are made of leather and rubber.